VFI was founded when two long-time Front Sight Range Masters – Shannon Long and Nick Sealy – decided to finally have an answer for all of the students asking for advanced ropes courses or a way to utilize the Alpine Towers facility. Joined by long time guide and fellow adventurer Aaron Bogdanovich, the members of the VFI team are not merely weekend enthusiasts and you will definitely benefit from their decades of experience.
Shannon Long
President, CEO and servant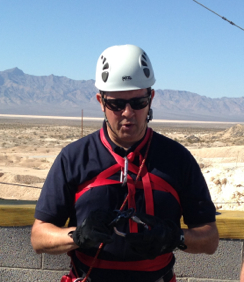 Shannon has been working and training in the vertical environment since he was a volunteer with Hartselle Fire Department in the late 1980's. He is an avid Canyoneer and over the years successfully completed many Canyoneering Courses with Rich Carlson founder of the American Canyoneering Association. Shannon is currently recognized as a Fixed Site, Single Pitch Canyon Guide and Canyoneering Instructor by the ACA.
In 1999 Shannon was selected as an instructor by Front Sight Firearms Training Institute after distinguishing himself in many of its courses. He quickly attained the rank of Range Master and range mastered the Practical Rifle curriculum. When the Ropes program came to Front Sight in 2002, Shannon was a plank owner of the first Rappel Master Course taught by RobRoy MacLeod of The National Association of SWAT Trainers. Since that time, he has been a Ropes Range Master and soon became Front Sight's Ropes Facility Manager. During that time he helped developed the curriculum for the very popular Front Sight 4-day and 2-day Practical Rope and Rappel class.
Shannon Long is a Captain and Paramedic with the City of Henderson Fire Department. When he is not riding in the front seat of a fire engine or teaching ropes/canyoneering classes; then you may find him wandering through technical canyons with friends.
Partial List of Accomplishments:
Clark County Senior Paramedic
Clark County EMS Instructor and Preceptor
State of Nevada Fire Instructor II
State of Nevada Fire Officer I
State of Nevada Safety Officer
National Association of SWAT Trainers Rappel Master
CMC Rescue School Rope Rescue Technician I and II
ACCT level II guide
Clark County "EMS Responder of the Year"
Boy Scouts of America Climbing and Rappel Instructor
Henderson Fire Department "Visionary Award"
Henderson Fire Academy Senior Cadre
Of course, his most important accomplishments are developing those who work with him. See below.
Nick Sealy
Vice President and Risk Management Director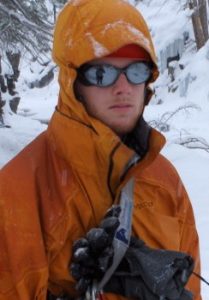 Nick has been training and instructing in the outdoor industry since the early 2000s. Nick started guiding and instructing in climbing and mountaineering during college and never quit.
Nick grew up an average suburban kid, getting outside every so often, until he went to a friend's Eagle Scout ceremony at age 15 and decided he wanted that, too. After blazing through the scouting program and becoming an Eagle Scout on his 18th birthday, Nick decided to start taking climbing seriously as he started school in Golden, CO at the Colorado School of Mines. Through working at the Outdoor Recreation Center at school he learned about the National Outdoor Leadership School and completed the Alaska Mountaineering course with Honors the summer after his sophomore year. While at Mines, Nick developed enduring interests in wilderness medicine, risk management, and the principles of adult education and received formal training in avalanche rescue and winter travel, wilderness first aid, and rock/ice/snow climbing and mountaineering. After college, Nick became a Wilderness EMT, an NFPA Rope Rescue Technician II and joined Park County Search and Rescue where he established himself as a leader in many areas including wilderness medicine and technical high angle rescue. Nick has also pursued firearms training in multiple weapons platforms and is an avid big game hunter in the high mountains of Colorado. Nick began working at Front Sight in January 2009 and soon distinguished himself within the Ropes program, becoming a RangeMaster in 2012.
Nick lives just outside of Denver, CO and spends most days working for Lockheed Martin Space Systems Company. He leads the Systems and Spacecraft Test Lab teams responsible for operating NASA's MAVEN spacecraft, a satellite currently in orbit around Mars. When Nick isn't hanging from a rope or stuck at a desk, he is probably carrying one of his kids around the Colorado mountains.
Partial List of Accomplishments:
National Outdoor Leadership School (NOLS) Alaska Mountaineering Course – Honors Graduate
CMC Rescue School Rope Rescue Technician I and II
NOLS Wilderness Medicine Certified Wilderness First Responder (Former Wilderness EMT)
Park County Search and Rescue (PCSAR) Training Director (2014)
PCSAR Technical Rescue Team Member
Colorado Avalanche Information Center Avalanche Level 1 (pre-AIARE!)
NRA Certified RSO, Basic Pistol and PPITH Instructor
Bachelors of Science in Engineering Physics from Colorado School of Mines 2007
Aaron Bogdanovich
Chief Operations Officer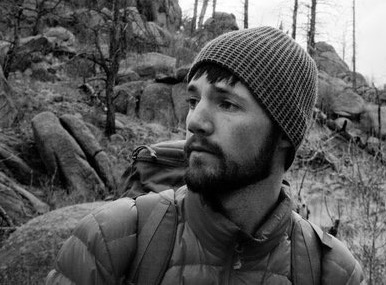 Aaron (nicknamed "Bogs") has been involved in the outdoor industry for the past 10 years. Working as a multi-sport guide, climbing instructor, ski/bike mechanic, and outdoor retail store manager; Bogs is a renaissance outdoor professional.
Bogs, having grown up climbing mountains, camping, and mountain biking, moved to Colorado for his undergraduate studies. During his time in Colorado, he took advantage of what the state had to offer and steadily grew his outdoor resume. After spending a semester at NOLS being formally trained in mountaineering, rock-climbing, canyoneering, and river travel, Bogs worked two summer seasons in Alaska as a multisport guide and in Colorado for a local multi-sport guide service and zip-line park. Bogs earned his Single Pitch Instructor from the American Mountain Guides Association in 2010 and has helped teach mountaineering, ice, and rock climbing courses at Colorado Christian University. During the off seasons, Bogs has worked in the outdoor retail profession for REI as a ski/bike technician.
Although he has spent most of the the last 12 years living in Colorado, Bogs is a Las Vegas native and has recently moved back to the valley to work for VFI. When not at his desk, Bogs can be found climbing at Red Rocks or cycling around town with his wife and daughter.
Partial List of Accomplishments:
NOLS Rocky Mountain Fall Semester – Honors Graduate
American Mountain Guide Association Certified Single Pitch Instructor
NOLS Wilderness Medicine Certified Wilderness First Responder
Leave No Trace Master Educator
US Army Military Mountaineer Designator
Certified Bike/Ski Technician (REI/Barnett Bicycle Institute)
Bachelors of Arts in American History from Colorado Christian University 2009