VFI Teams events will bring your team together as a high performing unit. Our goal is that you learn something about yourself, your team, and working together. Obstacle courses started out as a tool used by the military to develop leaders, team cohesion and problem solving skills by presenting obstacles for members or teams to overcome. In overcoming these obstacles (a.k.a. challenges) members and teams developed confidence in themselves and learned about interpersonal dynamics and their role in accomplishing objectives. Though our facility is not a military obstacle course, these are the principles we use in designing our events so that you and your team will come out on top.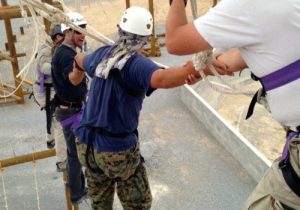 Team Building
Team building events are designed to improve your communication, teamwork, decision making, and problem-solving skills. We utilize the high- and low-angle elements of our challenge course facility to do just that: challenge you to learn and grow together. It is our goal that your team returns to the office with new skills and insights to become more productive.
Duration: 1 day
Cost: $250 per participant

Team Bonding
Team bonding events are designed to give your team a taste of adventure. We utilize the same facility and elements, but the main goal is fun for you and your team. It is our goal that your team returns to the office with even stronger relationships and smiles on your faces. If your team learns some of those same team building skills and insights along the way, all the better. 
Duration: 1 day
Cost: $250 per participant

We pride ourselves in our ability to adjust all of our VFI Teams events to meet your exact specifications. However, if you are looking for an experience that doesn't sound like what we've described above, please contact us. We are up to the challenge of creating custom events, tailored just for you.
Alpine Towers Facility
VFI has exclusive access to the world class Alpine Towers Facility at Front Sight Firearms Training Institute in Southern Nevada. To get an idea of what is in store for you and your team, click the image below.
Fun Gun
Far too few people know the joy of fully automatic weapons. Though never a required part of a VFI Teams event, we partner with Front Sight to offer the opportunity to fire Uzi, Thompson, or MP5 submachine guns. To sign up, click the gun gun box on the registration page. Note that the fun gun shoot is an additional expense, at a cost of $40 per magazine.